10 April 2012, 17:18
Day 27 - Favourite Season Movie

This is an easy one as I always watch the movie and still do. It's the Yes Pretty Cure 5 movie Great Miraculous Adventure in the Mirror Kingdom!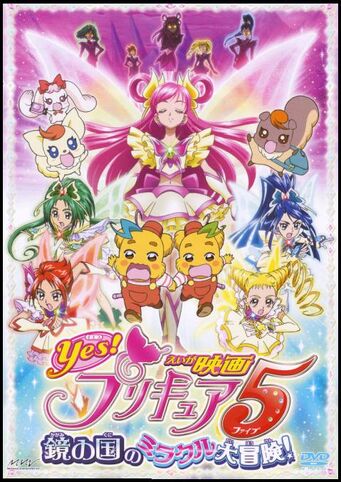 This movie introduces us to Dark Pretty Cure 5, which are the evil counter versions of Pretty Cure 5 created by the evil (guy? I'm still not sure if it's a male or female villain) Shadow using the Crystals of the mirror kingdom to make the Dark Precure (see what they did there? Shadow used mirror crystals to created dark/shadow versions of the Cures) in order to defeat Pretty Cure 5 and try to take the Dream Collet to grant his wish of world domination.
The film has some pretty awesome fight scenes and the girls spend most of the movie in either their Cure form or fighting.
The soundtrack is also really good and the music used in each of the scenes really suits them. I particularly love these tracks
It's everything a Precure Movie should be...plenty of action but with a good bit of emotion and an interesting villain. I still put the movie on every now and again.
Tomorrow is Favourite All Stars Movie