In return for allowing the erection of a series of hideous and dangerous advertising hoardings knows as Metropoles, and after an epic planning battle, advertising firm JCDecaux are installing bike rental stations in certain areas of the inner city. You'll be able to rent a bike and throw it in the canal, or do whatever else it is you do with bikes.
Here's one of the stations being built outside Fallon and Byrne.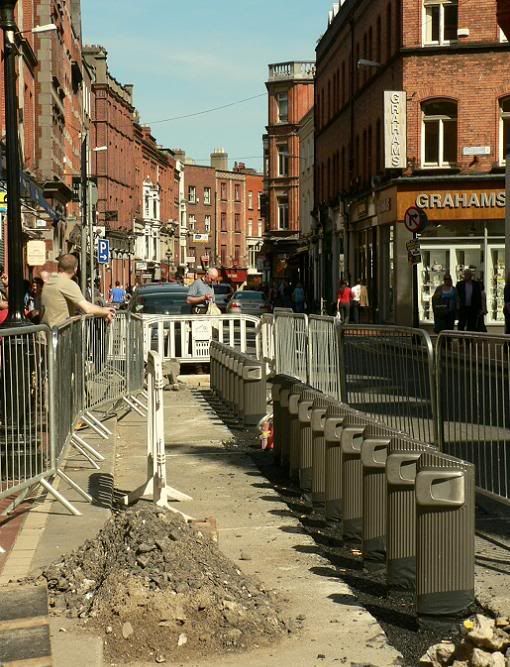 Here's where you can get them.
1.Chatham Street
2. Blessington Street
3. Bolton Street
4. Greek Street
5. Charlemont Place
6. Christchurch Place
7. High Street
8. Custom House Quay
9. Exchequer Street
10. Dame Street
11. Earlsfort Terrace
12. Eccles Street
13. Fitzwilliam Square West
14. Fownes Street Upper
15. Hardwiche Street
16. Georges Quay
17. Golden Lane
18. Grantham Street
19. Herbert Place
20. James Street East
21. Leinster Street South
22. Townsend Street
23. Custom House
24. Cathal Brugha Street
25. Merrion Square East
26. Merrion Square West
27. Molesworth Street
28. Mountjoy Square West
29. Ormond Quay Upper
30. Parnell Square North
31. Parnell Street
32. Pearse Street
33. Princes Street North/ O' Connell Street
34. Portobello Harbour
35. Smithfield
36. St. Stephens Green East
37. St. Stephens Green South
38. Talbot Street
39. Wilton Terrace
40. Jervis Street
They'll be available for hire from September.
Here's what they look like
From boards.ie
The scheme will provide 40 public bike stations around the city with 450 bikes available for general public use. The network of stations will extend from the Mater Hospital in the north to the Grand Canal in the south and from Smithfield in the west to the IFSC and North Docklands in the east.
City-goers will be able to collect a bike from any station and return it to any station on the network e.g. you could collect a bike from a station on Talbot Street and return it to a station at Stephens Green or vice versa. The cost of installation, management and maintenance of the bikes and their stations (including replacing and repairing the bikes) will be covered by JC Decaux. JC Decaux have agreed to provide the bikes as part of an Outdoor Advertising and public Amenities contract with Dublin City Council.
The dublinbikes scheme will operate between 5am and 12.30am, 7 days a week. An automated card machine will be located at each station where users can either use a smartcard (members) or a credit card (non-members) to take out a bike. Bikers who wish to sign up for a smartcard will pay an annual subscription fee of just €10, while occasional dublinbike users may prefer to pay a small charge (€2 for 3 days) for the use of the bikes. Once removed from any station, the bikes can be used for up to 30 minutes free of charge, with a relatively low charge per hour of rental thereafter (e.g. 0-30mins = free, 30-60mins = €0.50, 60-90mins = €1, etc). The bikes cannot be taken out using cash.
What do people think – will you hire a bike?