Fancy camping out in Dame Street?! Now you can! In the spirit of Occupy Wall Street and the Arab Spring uprisings, Dublin has its own peaceful protest now!
I passed by the Central Bank last night.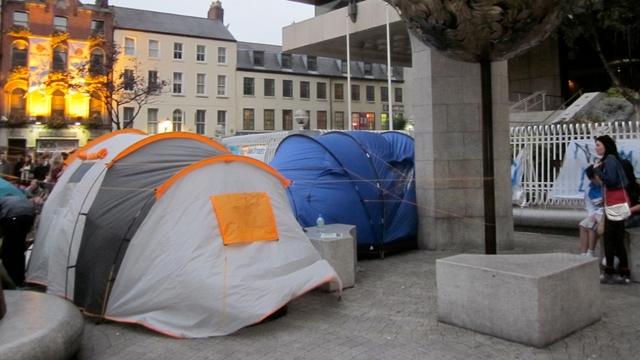 http://www.rte.ie/news/2011/1008/damestreet.html
About 60 protestors and onlookers are on Dame Street in Dublin tonight as part of the 'Occupy Dame Street' protest.
More than half a dozen tents have been pitched outside the Central Bank by demonstators.
Gardaí say the protest continues to be a peaceful one.
The group said its mission is to end corporate corruption and it is acting in solidarity with other similar movements such as 'Occupy Wall Street'.
Among the group's demands is that the International Monetary Fund and that the European Central Bank stay out of Irish affairs.
The group is also demanding the return to the Irish people of oil and gas reserves off the Irish coast.
The demonstrations started with a Facebook and Twitter campaign.
Yesterday, the American Embassy in Dublin issued an emergency warning to US citizens regarding today's 'anti-financial sector' demonstration, advising them to avoid the area.
Quite why the US Embassy has warned American tourists about Occupy Dame Street is a mystery to me...
Talk about an over-reaction!
https://www.osac.gov/Pages/ContentReportDetails.aspx?cid=11530